Posted at 09 Dec, 00:00h
in
review
a powerful, astute piece of theatre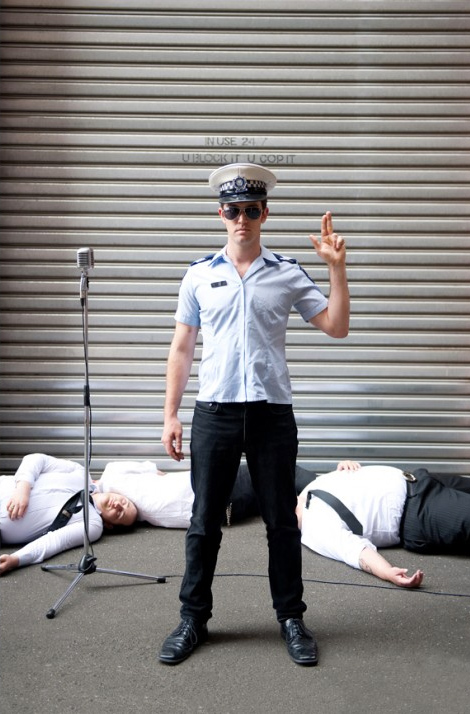 The Economist | Review
Liza Delfouli | Artshub
Dec 9, 2011
An uncompromising, powerful and astute piece of theatre, this controversial play presents a fictional but informed look at the world of Norwegian terrorist Anders Breivik.
The Economist is a formidable and innovative work of theatre by writer Tobias Manderson-Galvin and director/dramaturge Van Badham. It presents a fictional but informed and telling insight to the world of Norwegian terrorist Anders Breivik. Using the whole cast as props and with a marvelous economy of performance, this ensemble piece is an elegant example of powerful story making.
---
Chilling and affecting without being sensationalist or mawkish, the play's lead character – Andrew Berrick – is played effectively by Zoe Dawson. She does a terrific job, inhabiting the increasingly delusional Berrick/Breivik with presence and complexity. And she is mostly matched by the rest of the cast although there are a (very) few less convincing moments.
---
Using authentic details from Breivik's life and eschewing linear timelines, the work builds up a rich sense of the personality of the gunman and his world. The theatre makers here know how to keep out of the way of their story yet still create a sense of the unreality of one man's solitary, misguided journey. The story of Berrick's life is woven together by research from Breivik's diaries, his political writings from his published manifesto as well as from the web, and from the recollections by others – showing, too, how he isn't alone in his extreme thinking. His history here includes details concerning his politics as well as his personal issues (not least his vanity and need to be seen as 'a stud'), his steroid abuse, his taste in music, his gaming pursuits (World of Warcraft), his attitude towards women and the impact of his being rejected from military service.
---
'Become an economist' is the advice he was given, hence the title of the play. By 'chunking' the events into separate scenes, the work is almost suggestive of a police recreation or a documentary but works entirely within the conventions of its own theatrical unorthodoxy. The play uses music, props, song and physical theatre, with each cast member dressed in red jumpers and beige pants – as Breivik was when arrested – delivering an all-round satisfying sensory and intellectual experience while constantly reminding the audience that it and its subject are constructions.
---
There is terrific talent at work here, uncompromising and original. There has been some controversy about The Economist in mainstream Australian media, taking quotes from Manderson-Gavin out of context to give the impression he was arguing that people should have pity for Breivik. Needless to say, the tabloids got the wrong idea about the playwright's intentions. I hope that any of the 'journalists' who suggested he might have sympathy for the gunman will make an effort to see the play and apologise for their misrepresentation of the playwright and his powerful, astute piece of theatre.
---
4 stars
"A powerful, astute piece of theatre."